Candid Clear Aligners FAQs
At Summit View Biological Dentistry and Wellness, we understand that straighter teeth can mean improved self-confidence and a more positive outlook. That's why we're proud to offer Candid Clear Aligners, a discreet way to straighten your teeth. 
With Candid Clear Aligners, there are no metal wires or brackets to deal with. Instead, you'll wear a series of clear, virtually invisible aligners. And because the aligners are removable, you'll be able to brush and floss your teeth easily. 
If you're ready to get started on the path to straighter teeth, call us today to schedule a consultation. Dr. Scott Chandler and Dr. Matthew Geddes will be happy to answer any of your questions and help you get started on the road to a more confident smile. Below are some of our most frequently asked questions.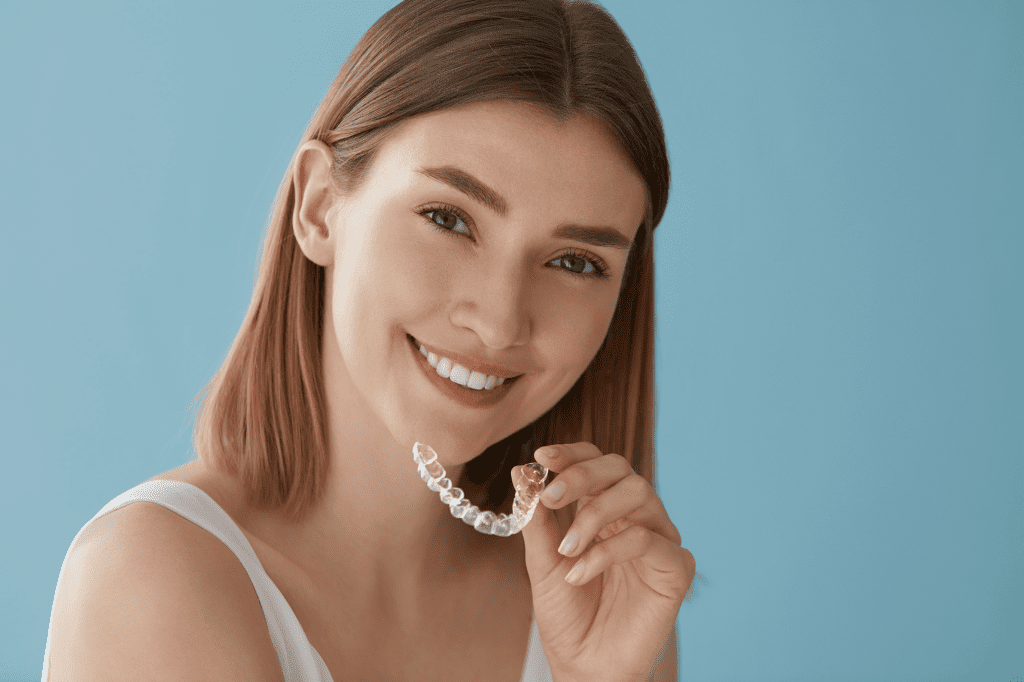 What are Candid Clear Aligners?
As touched on briefly above, Candid Clear Aligners are a brand of clear aligners that we use to straighten teeth. They are an alternative to traditional braces and are made of a transparent, flexible material that is virtually invisible when worn. Candid Clear Aligners are custom-made for each individual and designed to move teeth into the desired position gradually.
Are Candid Clear Aligners Removeable?
Candid Clear Aligners are removable for eating and brushing, and you can easily clean them with soap and water, and it is safe to remove them. We recommend that users remove them for eating, drinking (other than water), brushing and flossing, and during physical activity. And you should wear the aligners for 20-22 hours a day, leaving ample time to remove the aligners for all of the activities mentioned above. In addition, sleeping with the aligners could increase the risk of gum disease or tooth decay, as aligners can trap bacteria against the teeth. Therefore, it is best to remove Candid clear aligners before bed and ensure they are clean.
How Long Will I Need to Wear My Clear Aligners?
Treatment with Candid Clear Aligners typically takes between six and eighteen months, and you wear the aligners for twenty to twenty-two hours per day.
How do I Clean My Aligners?
The good news is that Candid Clear Aligners are easy to clean. Brush them with a soft toothbrush and mild soap, and rinse them with lukewarm water. It would be best if you also clean your aligners after eating or drinking anything other than water. Candid Clear Aligners come with a handy carrying case, which you can use to store your aligners when you are not wearing them. By following these simple tips, you can keep your Candid Clear Aligners clean and help ensure that they last for the full treatment time.
Additionally, Candid provides a special cleaning kit that includes a toothbrush and aligner cleaning crystals. To clean your aligners, brush them with the provided toothbrush and then rinse them with warm water – ensuring to brush all surfaces, including the inside of the aligner where your teeth make contact. Then, soak the aligners in the cleaning crystals for at least 15 minutes before rinsing them again and putting them back in your mouth.
What if I Lose or Break One of My Candid Clear Aligners?
Candid Clear Aligners are made of a strong, durable material designed to withstand normal  everyday wear and tear. However, if you lose or break an aligner, it's essential to replace it as soon as possible. Otherwise, your treatment could be delayed or even halted entirely. 
Candid offers a replacement program for lost or damaged aligners, so you can rest assured that you'll be able to get back on track with your treatment plan. Although losing an aligner may cause a setback in your treatment plan, Candid's replacement policy ensures that you won't have to pay for the mistake. As a result, you can rest assured that your Candid experience will remain affordable and convenient, even if you lose or break an aligner along the way.
What is the Difference Between Candid Clear Aligners and Invisalign?
Candid Clear Aligners and Invisalign are both clear aligner systems that straighten teeth. Candid Clear Aligners are only available through licensed Candid providers, while Invisalign is available through any certified Invisalign provider. 
Both Candid Clear Aligners and Invisalign treatment typically take about the same amount of time – around 12 months – to achieve results. 
Candid Clear Aligners are made with a single piece of clear plastic, while Invisalign aligners are made with several pieces of plastic that fit together.
Candid clear aligners are made with patented SmartTrack® material that is comfortable, safe, and virtually invisible – so you can smile more confidently while straightening your teeth.
Can Candid Aligners Be Shipped to Me?
Yes! Candid's proprietary technology allows our team to assess your smile remotely, then send you a complete set of custom-made, clear aligners right to your door. 
Get the Smile of Your Dreams Today!
Summit View Biological Dentistry & Wellness is the perfect place to get Candid Clear Aligners because we use the latest technology to create a custom treatment plan for each patient. We also offer a free consultation so you can learn more about Candid Clear Aligners and how they can help you achieve the beautiful, healthy smile you've always wanted. Contact us today to schedule your free consultation at our Park City, Utah facility.